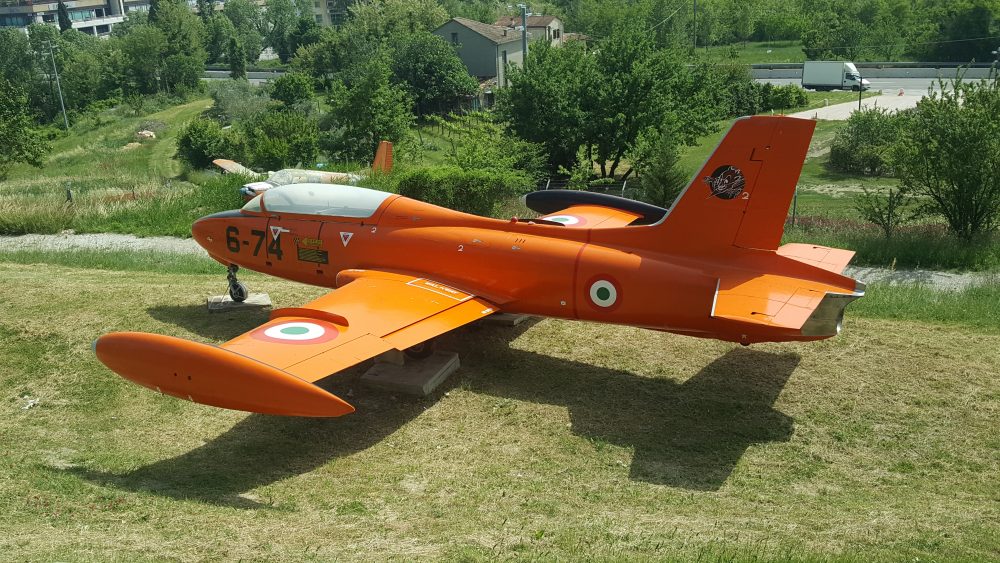 Aermacchi MB.326H
The first prototype of this two-seater trainer aircraft, used for basic and advanced training and also for light attack, first flew on 10 December 1957, equipped with a turbo-jet engine Viper 8 with a thrust of 794 Kg. The MB.326 first served in Italian air force, where it came into service (about 85 aircraft) in February 1962. The MB.326 was later supplied to the air forces of Argentina, Australia, Bolivia, Brazil, United Arab Emirates, Ghana, South Africa, Togo, Tunisia, Zaire and Zambia.
The MB.326 was capable of supporting pressures from +8 to -4 G, but the more recent versions, fitted with the powerful Viper 20 MK540 engine with a thrust of 1.547 kg, had an even more robust structure (MB.326GB).
The new configuration of the engine and the frame gave the plane the possibility of a heavier armament than before (light assault aircraft). The model shown at the museum served in the 51st Wing at Istrana.